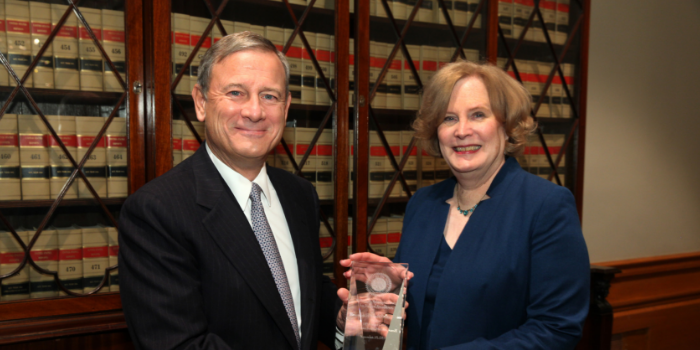 Chief Justice of the United States John G. Roberts Jr. presented the William H. Rehnquist Award for Judicial Excellence to Michigan Judge Elizabeth "Libby" Hines on Nov. 15 in Washington, D.C. Judge Hines, a district court judge in Ann Arbor, is the 23rd recipient of the Rehnquist Award, the most prestigious award presented to a state court judge.
"The Rehnquist Award was created for judges like Judge Hines," NCSC President Mary McQueen told the crowd of some 250 guests from around the country gathered in the Great Hall of the U.S. Supreme Court. "Judges who not only make their mark in the courtroom, but who also make significant differences in the lives of those who come before them."
Judge Hines has shaped the way many courts handle domestic violence cases. In 1999, she was appointed to represent her court on an executive committee that managed an initiative sponsored by the U.S. Department of Justice Office on Violence Against Women, one of only three sites in the country selected to find what court practices work best in domestic violence cases. Today, her court serves as a national resource for the handling of such cases.
"Judge Hines makes a difference by creating opportunities, opening doors and reimagining courts," McQueen said. "She helps defendants turn despair into hope."
Addressing the crowd, Judge Hines said one reason the Rehnquist Award is so meaningful is because it shines light on the challenging work trial court judges face daily. "With this award, the National Center recognizes and values the work that we do in the lower courts, "she said. "It is difficult to put into words how much this award means to me. I genuinely love the law. I've been handling criminal cases for more than 40 years, first as a prosecutor, now as a judge ... To be recognized by NCSC for the work I have been privileged to do - and to meet the Chief Justice of the United States-is absolutely thrilling."
Judge Hines was elected to Michigan's 15th Judicial District Court bench in 1992. She currently serves as co-chair of the American Judges Association's Domestic Violence Committee. She has served on the NCSC Board of Directors and was awarded the first Judicial Excellence Award by the Michigan District Judges Association. She received her bachelor's degree from the University of Michigan and her juris doctorate from the University of Michigan Law School.